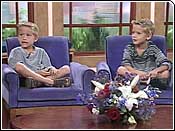 Interview on CBS This Morning
f
The identical twins who share the role of that little boy are Cole and Dylan Sprouse. At seven, they are acting veterans, but Big Daddy marks their feature film debut. CBS This Morning Co-Anchor Mark McEwen reports.
---

Big Daddy was the second largest grossing comedy opening ever, and has already topped $140 million at the box office. That's mostly due to the popularity of comic star Adam Sandler, but twins Dylan and Cole Sprouse are also a big part of what makes the movie work.

According to their mom, Dylan, the oldest by 15 minutes, is more extroverted and active. He did a lot of the scenes that required physical action. Cole, who is more introverted, did the sensitive scenes.

Although the boys get stopped for autographs, when asked if a lot of girls want to meet them Dylan emphatically answers, "that's sick!" Cole adds, "Adam says love stinks," referring to a line in Sandler's previous movie The Wedding Singer.

Dylan says they enjoyed working with Sandler. "We got to play football with Adam, and do cool stuff with him," said Cole.

In spite of the burdens of hype and fame, these boys know they can't get away with doing the things their character in the movie does. If they tried, Dylan says, their mom "would send us up to our room. She will give …" At that point Cole stops him cold, saying, "Our parents didn't want us to say it."

Dylan and Cole were born in Arezzo, Italy and raised in Southern California. They began acting at the age of six months at the suggestion of their grandmother, an actress and drama teacher.

The talented twins booked their first job, a commercial, at their first audition and soon after got work on the ABC series Grace Under Fire. For five seasons, beginning when they were 1-year-olds, they shared the role of Brett Butler's youngest child, Patrick.

In addition to numerous commercial credits, Cole and Dylan have also appeared on The Young And The Restless and Mad TV, and in Paula Cole's music video Wait. They will next be seen playing alien twins in The Astronaut's Wife with Johnny Depp, slated for an August release.
---
Don't forget, you can watch the interview by clicking a link in the Multimedia Section of this page! Or, if you'd rather, you can read the whole interview by clicking here.