Welcome to the multimedia page. Here you can find movies and sound files featuring Cole and Dylan. In order to hear the sounds or watch the full Big Daddy trailer, you will need to download the Real Player G2 from Real's Website. To view Cole & Dylan's take on working in Big Daddy, you will need the newest version of Quicktime which can be downloaded at Quicktime's website. Both of these beta programs are free and will greatly improve your web-browsing experience. You might even have them without even knowing it. Try to listen or watch and if you get an error, you'll need to go download one or the other.



Movies


ET Online Mini-Interview
(Requires Real Player G2)
Full Big Daddy Trailer

Cole & Dylan's Take on Big Daddy
(Approximately 2.2 MB)

A TV Interview on "CBS This Morning" - July 9, 1999

For Low-Speed Connections
(56K and Below)

For High-Speed Connections
(ISDN, DSL, Cable, etc.)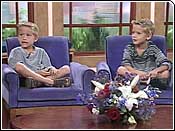 Note: To view the "CBS This morning" Interview, you will need the Windows Media Player which can be downloaded for free here. Still can't get it to work? Never fear! I've got the whole thing written out for you! You can check it out by clicking here.

Sounds
ET Online Mini-Interview (New!)
Julian: "But after my nap I always watch the kangaroo song.
Sonny: "It's overtime right now and there's a penalty shot about to take place. This happens like once every ten years..."
Julian: "Kangaroo Song! Kangaroo Song! KANGAROO SONG!!"
Sonny: "ALRIGHT!!!!!"
"Layla, if you don't come over to Sonny's apartment tonight, there's a good chance that I'll develop a stutter. P-P-P-Please don't do this to me!"
"Look, I did it! Loop, swoop and pull!"
"Can I have a nightlight?"
"And he taught me that Styx was one of the greatest American rock bands..."